PLAYGROUNDS AND RECREATIONAL SAFETY:
| | |
| --- | --- |
| | Call (310) 645-8789 for information. |
| | Fax (310) 645-8788 |
| | Email: prestonoidaol.com |
Work has included evaluations of the safety of playground equipment and similar apparatus as well as determinations as to the practices involved in laying out and underlaying playground facilities and making them reasonably safe. Swings, rings, jungle gyms, monkey bars, slides, and climbing equipment as well as soccer goals, tetherball installations, and sports park backstops and shields.
Much of the significant research data on playgrounds is in my library. This includes the CPSC standards for equipment and underlayment. This can assist in the methods for making siting decisions and layout.
Good familiarity with the safety aspects of many sports including football, hockey, soccer, diamond ball, and net sports. I have addressed assumption of risk among spectators and participants, and I have the expertise to evaluate safety conditions on the field as well as enforcement of safety rules.
Cases have involved impacts with equipment on and off the field as well as encounters with fixed installations. A big issue is design and installation to generally accepted safety standards. I have many of these standards in my library.
Work on crowd control and queuing at rides and attractions.
Cases worked include go-karts, mini-cars, bumper boats, waterslides, ski-lifts and people movers. Cases have involved personal protective equipment, assist procedures, and standards of care.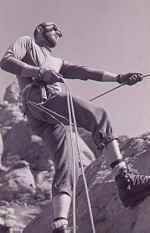 Mountaineering and hiking safety is another aspect of my safety services. This includes work with the safety of equipment and practices such as fueling and operating camp stoves, tents and technical climbing.
On the lighter side: There is a new sport in Los Angeles. It combines the best of in-line skating and assault rifle shooting. They call it the Olympic (Blvd.) Drive-By-athlon.